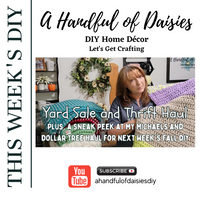 Don't Miss My Weekly DIY's
Welcome to A Handful of Daisies DIY! Join me as we create beautiful Home Décor. From a simple wood board to random thrifted items and furniture, you will find it is easier than you think. I hope to inspire you to get out that glue gun and paint brush, hit your local Thrift Store and Get Crafting!
If you have completed one of our DIY Kits or have a thrifted item makeover, send me a before and after picture on our Facebook VIP page or by email. I would love to share your projects on my upcoming videos!